Chillers, Inc. is proud to offer Cooling Towers from these leading manufacturers of water distribution equipment:
LITERATURE
Cooling Towers
Click on the icons below to download PDF literature files.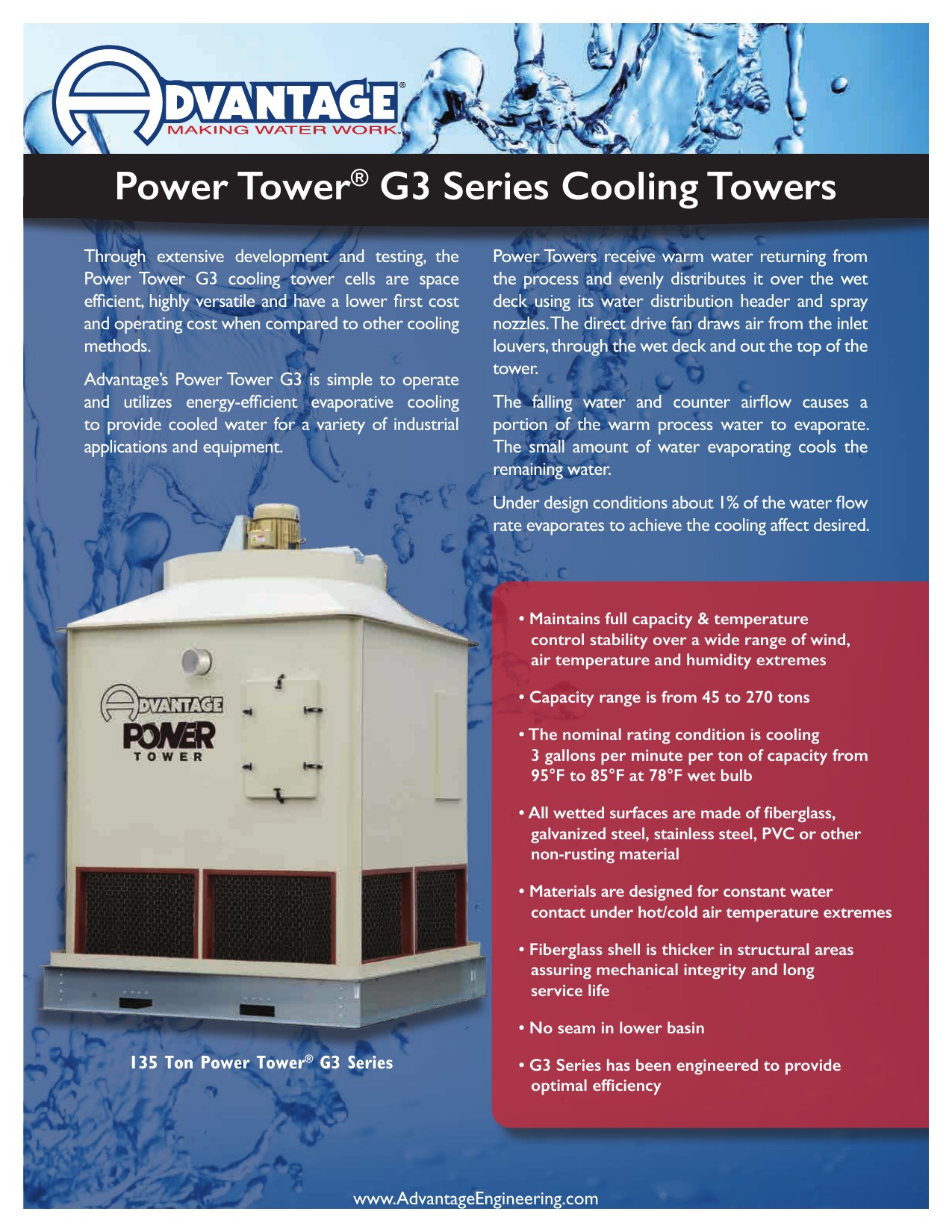 Advantage Power Tower Series
Temptek TP Series
COOLING TOWERS
Capacities from 45 to 270 tons
Fiberglass or Metal Cells
Tower cells provide COOLING to applications such as hydraulics, chiller condensers, and others processes that require cooling water to 85°F.
Cooling towers are able to reduce process water temperatures through the cooling effect of evaporation (depending on ambient air temperature and humidity).
Learn more
.
Cooling towers are part of a central system that include a pumping system or Pump Tank Station.
Cooling tower cells provide cooling water from 95°F to 85°F (at 78°F wet bulb).
FIBERGLASS CONSTRUCTION
Advantage Power Tower® and Temptek TP Series cooling tower cells offer total non-ferrous shell construction with UV protected fiberglass. A stainless steel structure supports the direct drive fan assembly with TEFC motor. A structural base is included for roof or stand mounting.
Other features include:
UV protected fiberglass shell
TEFC fan motor
ABS honey-comb stacked wet deck
Structural steel base
Non-ferrous distribution header
Non-clogging nozzles
Easy-to-remove inspection covers
Outstanding product warranties
Advantage offers detailed plant drawings with every cooling tower system purchase.
GALVANIZED STEEL CONSTRUCTION
These cooling towers are ready to meet the needs of today's industry. Galvanized steel cooling tower supplies inexpensive cooling water for your hydraulics, condensers, temperature controllers, and other machinery.
G210 hot-dip galvanized steel
Wet deck offers maximum air to water contact
Open gravity feed hot water basin
Open drip proof fan motor
Call Chillers, Inc. for product Warranties!
Typical image for Models
PT-45G3, PT-85G3, PT-105G3 & PT-135G3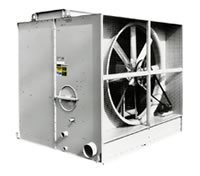 Temptek PPT Series model PPT-1600-2HP shown with mounted and wired pumps, valves, and motor starters.